SS-304 Specifications Page Back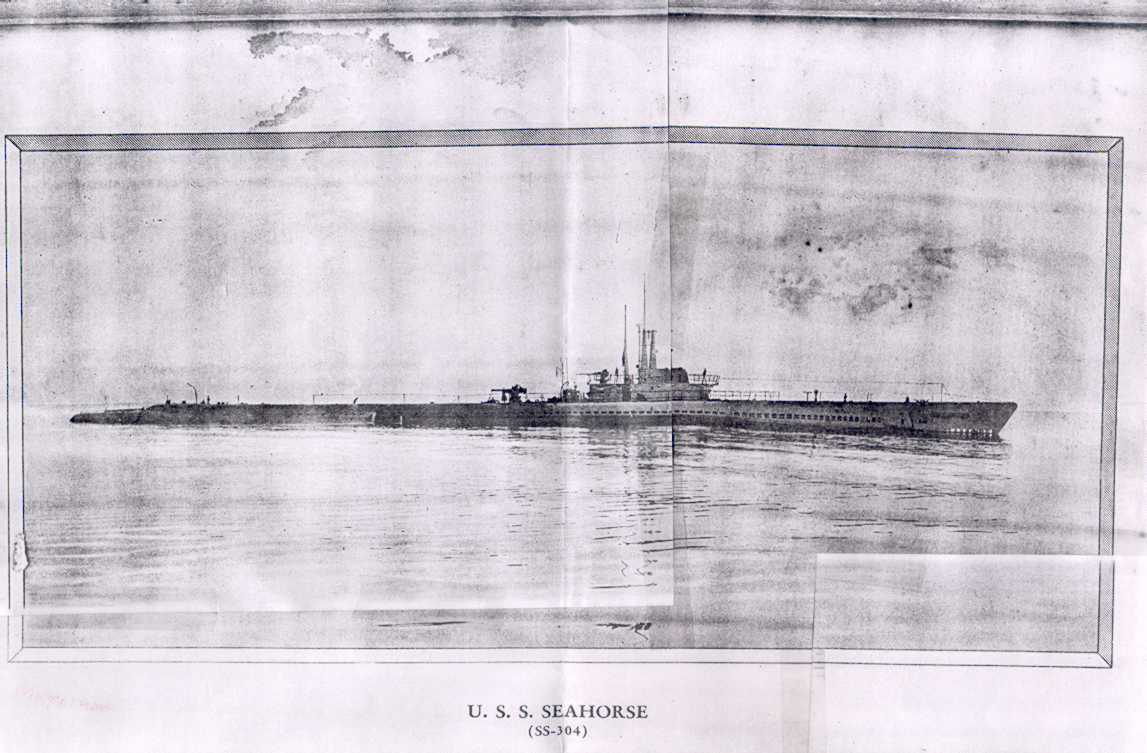 USS SEAHORSE (SS-304) was laid down on August 1, 1942 at the Mare Island Navy Yard. She was launched January 9, 1943, sponsored by Mrs. Chester C. Smith and commissioned March 31, 1943 with CDR Donald McGregor in command.
The first Seahorse war patrol was from 3 August to 27 September 1943. On the morning of 29 August while gaining attack position on an enemy convoy, she was detected by escorts and suffered damage from a depth charge attack. She scored three torpedo hits on a transport and then went deep to evade the ensuing attack which caused several leaks and put one torpedo tube out of commission.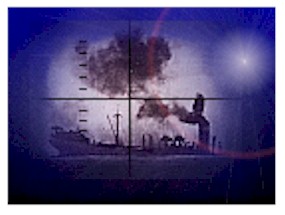 Following refit, Seahorse sailed on 20 October for her second war patrol. She sank three enemy trawlers in surface actions and then, along with the USS Trigger commenced a two day attack on a 17 ship Japanese convoy. Seahorse evaded three escort ships and fired three torpedos at two freighters. Four hours later she again attacked, sending three more torpedos at a tanker and another spread at a third freighter. Flames burst from each target as Japanese destroyers turned towards Seahorse but they were too late to catch her. Seahorse expended the last of her torpedos on 30 November. After manuevering for several hours she was finally able to fire her stern tubes at the enemy convoy. However, one torpedo exploded close aboard and the convoy opened fire on the vicinity of Seahorse. With so many explosions around her, it was impossible for her to determine whether any torpedos had hit. Low on fuel and out of torpedos, she returned to Pearl Harbor.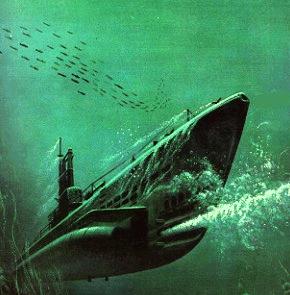 Seahorse departed on 6 January 1944 for her third war patrol. On 16 January, she evaded four escorts and destroyed the cargo ship Nikko Maru. She spent 21 January tracking two enenmy cargo ships and three escorts. In the late evening she pressed home four attacks to sink the cargo ship Yasukuni Maru, and the passenger-cargo ship Ikoma Maru. On the evening of 28 January, Seahorse began an 80 hour chase of an enemy convoy. Being continually harassed by escorts and aircraft, Seahorse fired three torpedos at the cargo ship Toka Maru. Following the sinking, she lost contact with the convoy for several hours, but sighted it again at dawn. With the crew exhausted by the extended chase, she fired her final two torpedos. After evading the escorts, she surfaced in time to see the results of her latest attack as the cargo ship Toei Maru slipped beneath the waves.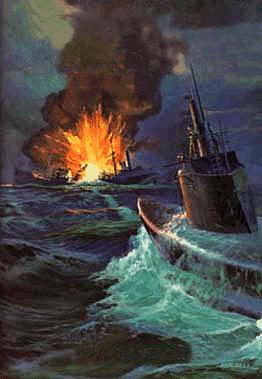 Seahorse's fourth war patrol was conducted in the Marianas. Intercepting a large convoy on 8 April, she fired four torpedos, sinking the converted seaplane tender Aratama Maru. Shortly thereafter, her second spread of torpedos sank the caro ship Kizagawa Maru. Although a counter attack drove Seahorse from the vicinity, she quickly regained contact and sank the cargo ship Bisaka Maru. Seahorse took up lifeguard stations for airstrikes on Saipan on 12 April and, while west of Saipan on 20 April, sighted and sank the Japanese submarine RO-45. In the same vicinity a week later, Seahorse sank the cargo ship Akigawa Maru. She departed her lifeguard station on 3 May and arrived at Brisbane, Australia on 11 May.



Seahorse's fifth war patrol began on 11 June 1944, patrolling between Formosa and Luzon. On 13 June, a Japanese Task Force under VADM Ukagi Matome set sail to rendezvous with additional elements of the Japanese fleet to attack the U.S. invasion fleet off the Marianas. However, on 15 June, at 1622, Ugaki was sighted east of Mindanao and later reported by USS Seahorse. Seahorse's report helped U.S. intelligence put together a picture of the strength and disposition of the approaching Japanese forces. The information later led to the "Great Mariana's Turkey Shoot" during which the U.S. broke the back of Japanese naval aviation. On the morning of 27 June, she sank the tanker Medan Maru and damaged two other enemy vessels. On 3 July, she sank the carg ship Nitto Maru and the passenger-cargo ship Gyoyu Maru. The following day, Seahorse expended the last of her torpedos sinking the cargo ship Kyodo Maru No.28 and returned to Pearl Harbor on 19 July.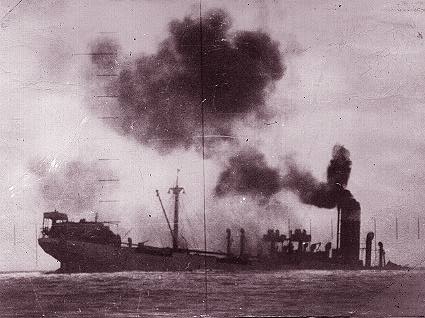 Seahorse spent the first part of her sixth war patrol supporting the capture of the Palaus and then headed for the Luzon Strait. Despite intensive efforts, she could locate only one worthwhile target, Coastal Defense Vessel No.21, a frigate of 800 tons, which she sank. Five days later she took up lifeguard station for carrier airstrikes on northern Luzon and then returned to Midway on 18 October.

Upon completion of an overhaul at Mare Island Navy Yard, Seahorse put to sea on 9 March 1945 for her seventh war patrol. Patrolling in the Tushima Strait, she sank a small junk with gunfire on 8 April. On 18 April, an attack by two patrol boats left the interior of the submarine a shambles. Seahorse made hasty repairs and headed for Apra Harbor, Guam and then to Pearl Harbor for overhaul.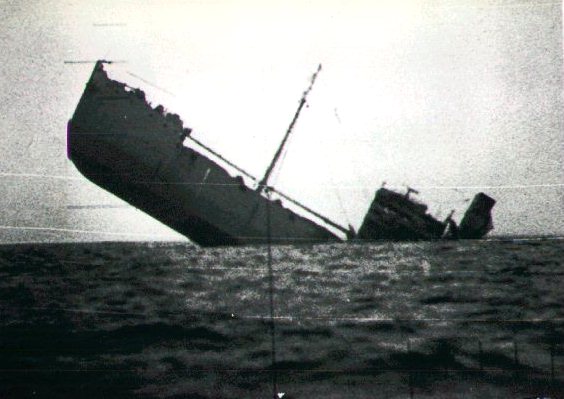 Seahorse put to sea for her eighth and final war patrol on 12 July 1945. when hostilities ceased on 15 August, she was on station 40 miles southeast of Hachijo Shima. Following her return to Midway, Seahorse sailed for Mare Island where she was decommissioned on 2 March 1946. She was reclassified an auxiliary submarine on 6 November 1962, and struck from the navy list on 1 March 1967. Seahorse received nine battle stars for service in WWII.

Top
Length(ft-in) - 311-9
Beam(ft-on) - 27-3
Draft(ft-in) - 15-3
Pressure Hull thick(lb/sq in) - 35
Test Depth - 400
Surface displacement(tons) - 1.525
Submerged displacment(tons) - 2.415
Battery(cells) - 2x126 S
Capacity(amp-hr) - 2x9.300
Surface speed(kt) - 20.25
Surface endurance(nm/kt) - 11.000/10
Submerged speed(kt) - 8.75
Submerged endurance(hr/kt) - 48/2
Tubes:Bow - 6X21"
Tubes:Stern - 4X21"
Torpedoes - 24
Guns - 1x5"
Complement: 80

Top